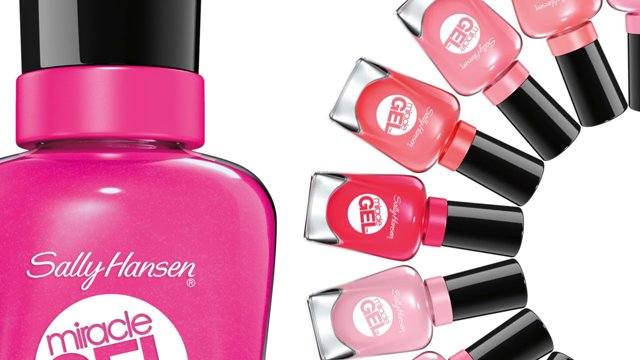 Hands and finger nails that are well taken care off are the synonym of us paying attention to our appearance. Everyday, we moisturise hand skin, perform hand scrubs treatments and put on paraffin masks. Furthermore, we paint our finger nails with pastel colours for work but when we have a night out with friends, we decorate our nails with dark and sparkling nail varnishes. But do you know how to make gel manicure using Miracle Gel from Sally Hansen?
Gel nail varnish Miracle Gel from Sally Hansen.
Sally Hansen cosmetic brand has created a set of quick-drying nail varnishes. Let us start from presenting the producers statement putting out that Miracle Gel has prolonged durability. According to manufacturers, the product holds on nail plates even up to two weeks. When applied on, it provides intensive, vivid colour and nice gleam. How to use this gel nail varnish? Firstly, you have to distribute two layers of Miracle Gel, and when these dry out completely, put on only one layer of top coat of the same name. What is more, the product of Sally Hansen can be removed as a regular nail varnish. And what is most important, we do not have to use UV lamps since the nail varnish dries out extremely quickly. Another important issue to mention, Sally Hansen prepared a colour scheme that consists of 12 shades. These are, for example, pink shades and browns, violets, blue shades and reds.
How to do professional manicure at home?
In order to make the nail varnish hold longer, we have to prepare out finger nails properly like, for example, removing cuticles or filing uneven edges. You will need: a bowl filled with a mixture of soap and water, a towel, a wooden cuticle pusher, nail clippers, a nail file, a nail buffer, a moisturizing cream, cotton pads and a nail remover.
Begin with removing old nail varnish – finger nails have to be precisely cleansed out of all the cosmetic residues. Put your hands in the bowl with water. In this way, you will make your cuticle softer and as a consequence, it will be easier to remove it. After a few minutes dry the hands with the towel. Now, push the cuticles back using, obviously, the wooden cuticle pusher. You can remove these also using the nail clipper. Next, reach for the nail file and shape finger nails the way you like. After that, take the nail buffer and polish your nail plates and degrease these as well to make putting on the nail varnish easier. If you use Miracle Gel from Sally Hansen, follow the above-presented instructions. But if you are going to cover your nail plates with a regular nail varnish, do not forget to finish the manicure by applying a transparent nail varnish that will make all the layers more durable. You can also do French manicure. Remember to use special nail stripes to make tips of the nail plates white and even. Thanks to this, you finger nails will look simply astonishing!