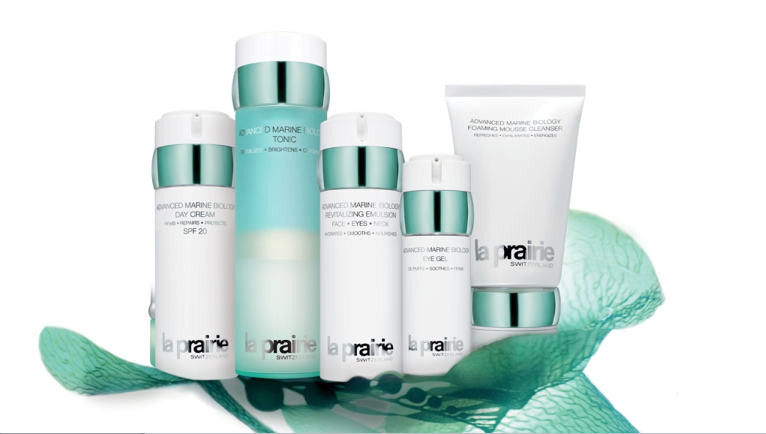 Winter in full, therefore skin would do with moisturization and regeneration. La Prairie decided to take care of this issue. Most drugstores are equipped with this Swiss cosmetic brand's cosmetics for mature and dehydrated skin. These are particularly: an emulsion, a tonic, and a foaming mousse cleansing – all from Advanced Marine Biology Collection.
The first cosmetic is 3 in 1 La Prairie Advanced Marine Biology Revitalizing Emulsion (Protective Cream Gel Hydrator). This product has cream-gel consistency, therefore it is easy to apply on skin as it is fast to get absorbed. What is more, the product moisturizes, smooths fine wrinkles and accelerates process of skin regeneration by facilitating collagen production. Thanks to La Prairie treatment, skin becomes more tautened, younger, and healthier. When it comes to frequency of application, Revitalizing Emulsion should be used morning and evening. One or two dosages of the product should be pat into skin of face and neck using fingertips. The cosmetic can be also applied around eye skin area.
Advanced Marine Biology Collection from La Prairie consists also of Triple-phase conditioning tonic. This cosmetic is able to highlight discolourations, oxygenate epidermis cells, and remove all impurities and free-radicals from skin. The product can be applied morning and/or evening only on cleansed face skin. It is suggested to shake the bottle before use in order to combine all three phases of the cosmetic. The product has to be distributed on palm and then patted into face skin using fingertips.
The last cosmetic composing Advanced Marine Biology Collection from La Prairie is Water-Activated Foaming Mousse Cleanser. The product's aim is to remove impurities and residues of make-up as it moisturizes face skin. The foam is designed to be used morning and evening. Small amount of the cosmetic has to be combined with water. In such a way, a mousse is created that has to be applied on face with round movements. The moment make-up is removed, complexion becomes clean and fresh. Finally, the cosmetic has to be rinsed with warm water.
All La Prairie cosmetics from Advanced Marine Biology Collection contain natural substances – to be more precise, marine substances. For that reason, the products resemble little lighthouses, they are decorated with a sparkling stripe. A tube of Foaming Mousse Cleanser contains 125 ml of the product,  Revitalizing Emulsion – 50 ml, and the capacity of Triple-phase conditioning tonic equals 150 ml.