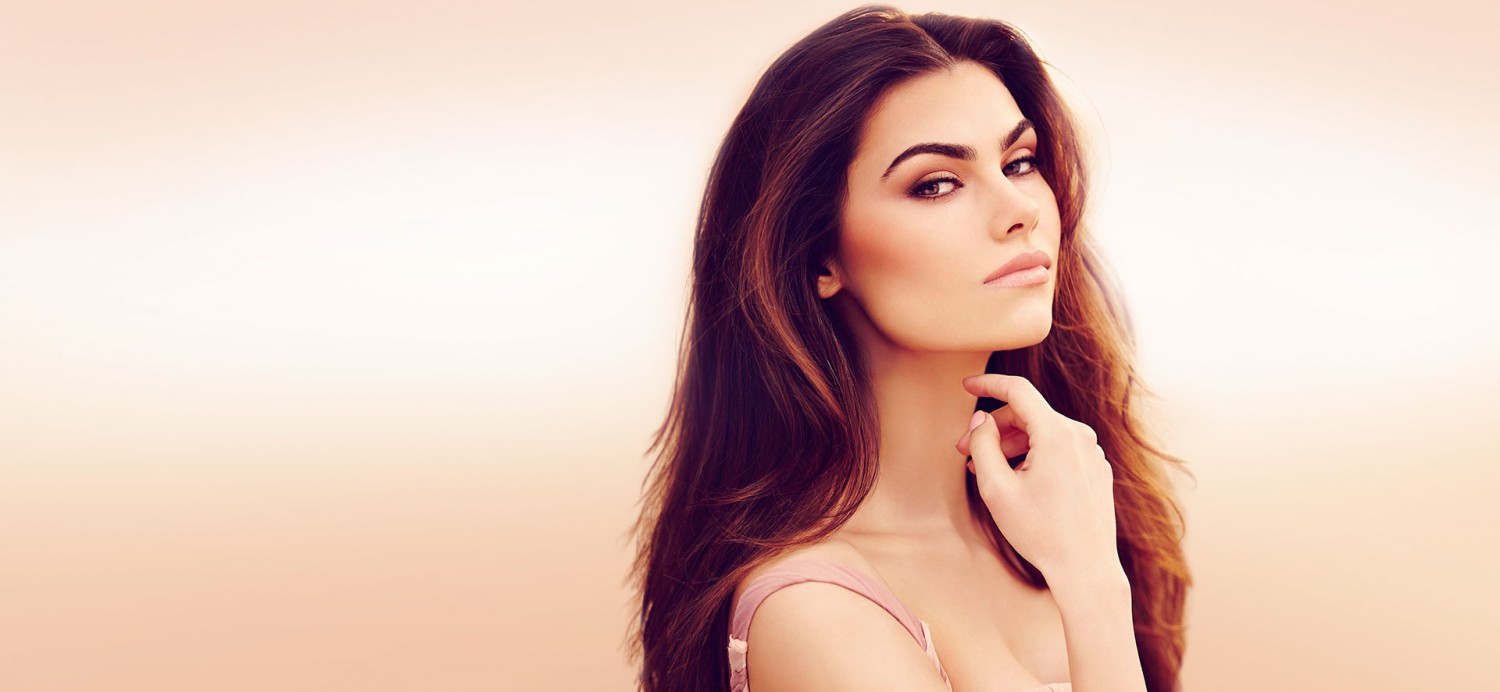 Thanks to the tips enlisted below, you will be able to do glam make-up. In order to obtain this kind of look, use only bright eye shadows and a dark violet lipstick – a hit of Autumn/Winter 2015 season. If you would like to wear glam make-up, prepare the following colour cosmetics: Marc Jacobs Under(cover) face primer, Vichy Dermablend powder and foundation, Laura Mercier concealer, Daniel Sandler blusher, Clinique eyeliner, Maybelline mascara and Clinique lipliner.
Begin with making your face ready for the upcoming layers of colour cosmetics. Start with applying Marc Jacobs Under(cover) face primer that will help with evening skin tone, mattifying complexion and prolonging hold of the complete make-up. Then, move to defining the eyebrows. You can do it using either special eyebrow shadows or an eyebrow pencil. It is also crucial to shape the eyebrows perfectly. Any single hair should not stand out of the eyebrow contour. If you want to make your eyes bigger, reach for a bright concealer and outline eyebrow arches. The final touching up can be done using gel for eyebrow setting. Vichy Dermablend foundation will even skin tone. Apply it with the use of a brush that has even-length bristles. Start covering your face from the middle (nose, forehead etc.) and end at the sides (e.g. temples). Use a concealer to camouflage all acne marks, broken capillaries, dark circles under eyes, and other skin imperfections. If you want to contour the face, apply a stick bronzer. Put it on the face parts that you would like to hide. Smudge the cosmetics precisely in order to blend it with the foundation. Follow the same procedure while applying the blusher by Daniel Sandler.
Time for eye make-up. Apply an eye shadow keeper first. Thanks to it, your eye shadows will hold longer and their colour will stay true. At the beginning, use a metallic cosmetic of brown shade and cover the upper eyelids with it. After that, gather on your brush a silver eye shadow with sparkling particles and mark  middle part of the upper eyelids. Now, reach for the eyeliner by Clinique and draw a line on both upper eyelids. Next, coat the eyelashes with Maybelline mascara and apply false ones if you want to. The lower eyelids should be covered with eye shadows of caramel and gold colours. Inner corners of the eyes should be covered with an écru eye shadow. Apply the black eye pencil on water line. Define lower eyelash base with a dark brown eye shadow. Your glam make-up is almost ready. All you have to do next is the final touch up. Use the concealer and hide the dark circles under the eyes together with the flecks of the mascara and eye shadows. Dab top of cheekbones with a highlighter and then add a blusher by Daniel Sandler. Now, time for outlining contour of the lips. It is suggested to use a lipliner of dark shade (because we are doing glam make-up). At the end, fill the outline with a lipstick of the same shade as the lip-liner's. Your gleam make-up is ready!