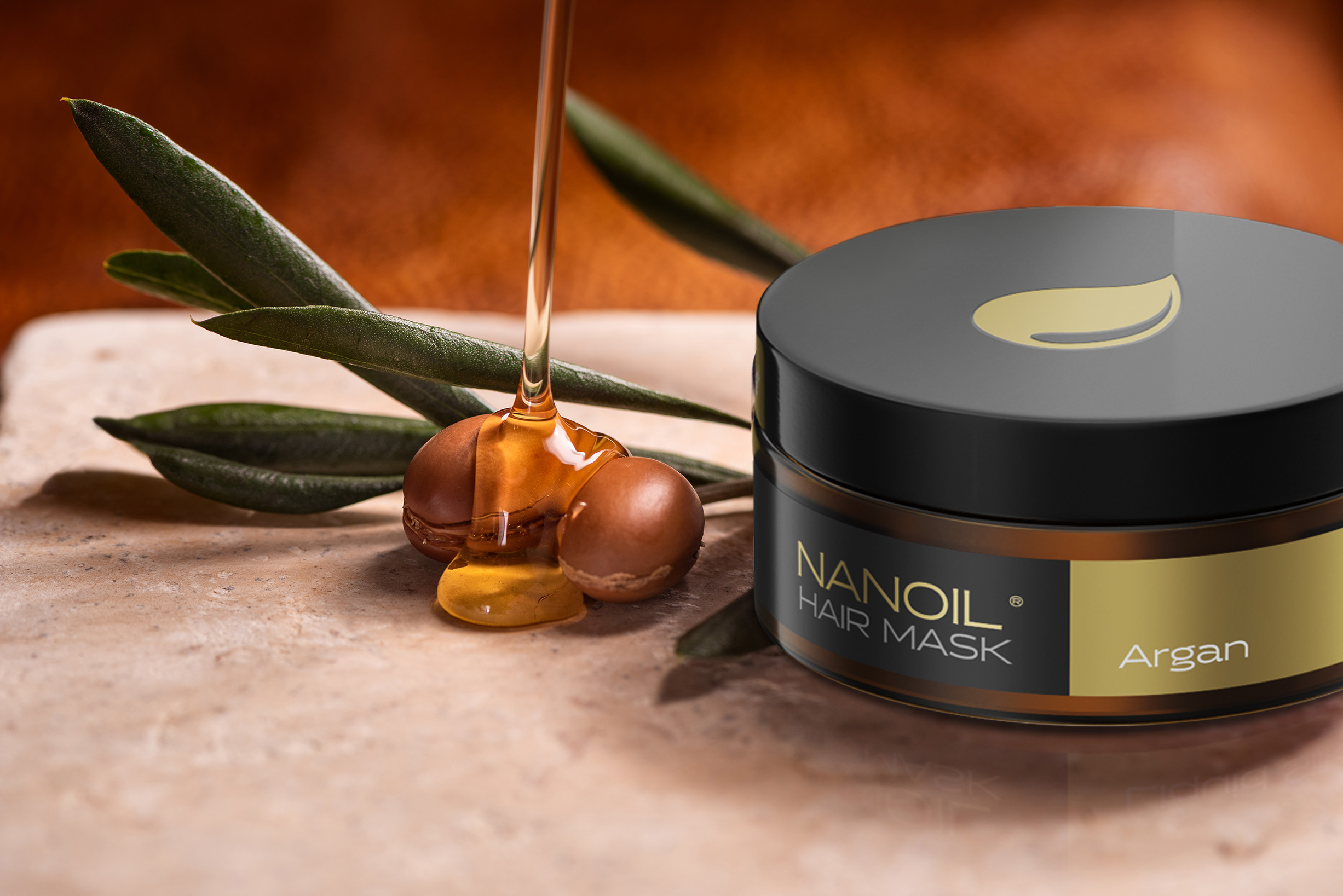 These remarkably high hair and skin improving abilities of argan oil are known to almost everyone. But what if we used the oil to create an intensive repair hair mask? This is how the best hair treatment came into existence for you – Nanoil Argan Hair Mask.
It seems that natural beauty oils will stay with us for good – and among them the undisputed king, which is the Moroccan argan oil. It plays the role of the key ingredient in hair mask by Nanoil, which belongs to the series of five hair masks designed to take care of hair professionally at home.
Learn the wonderful properties of Nanoil Argan Hair Mask, give it a try and improve your hair today!
Why is it the best hair mask?
There are a few reasons why Nanoil hair mask with argan oil is a cosmetic that should expand your collection of the products for effective and simple hair care.
1. Contains argan oil that is good at multitasking
Argan oil is the ingredient that determines the way this hair mask works. Being one of the world's costliest and the most precious oils, argan is recognized as an antioxidant-rich substance that is able to regenerate and protect hair. This protection isn't limited to moisture loss only since argan oil also shields hair from the negative impact of high temperature and the sun. If it wasn't for argan oil, this hair mask wouldn't be that effective.
View this post on Instagram
2. Suits all hair types
There are no limitations when it comes to application of Nanoil hair mask with argan oil. This means that you can incorporate it into your daily hair care no matter what type your strands are – dry and damaged, normal, fine and oily, or even color-treated. Argan oil makes this hair mask universal so it easily satisfies the needs of all users.
Nanoil Argan Hair Mask. What is hidden inside?
What we can see and assess, that is the effect of hair care, is strictly connected with what we can't see – the ingredients. And that is why Nanoil brand put a lot of effort to make sure that the ingredients used in their products are of the highest quality.
In the case of this Nanoil hair mask, the key ingredient is the cold-pressed, unrefined and organic argan oil. Even though argan oil handles various hair-related problems solo very well, when combined with the remaining constituents of the hair mask, it gives the strands even more – more hydration and nourishment for stunning effects.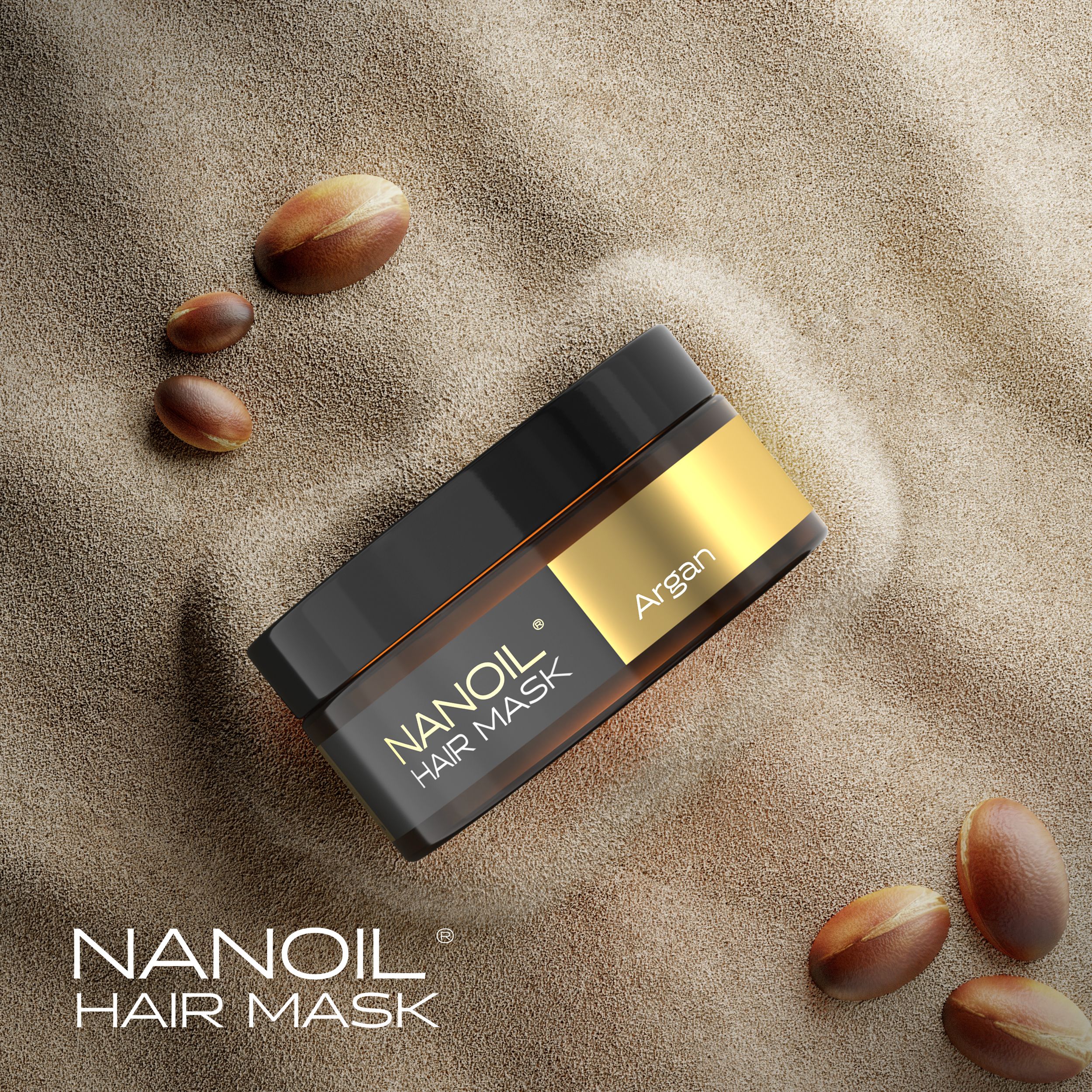 Properties and action of Nanoil Argan Hair Mask
What can you win if you use Nanoil hair mask with argan oil regularly? Enhanced natural hair beauty and health that the strands may lack. What's important, some positive effects can be seen already after the first use: strands become smoother and pleasant to the touch, the hair is also more manageable.
Nanoil Argan Hair Mask envelops hair to nourish and reinforce it from the inside. Long-term hair treatment with Nanoil translates into:
stronger hair.
combated problem of splitting hair ends.
lasting hydration.
easier combing and styling.
more beautiful, full of shine and resilient strands.
How to use Nanoil Hair Argan Mask?
All the benefits mentioned above can be achieved with spending little – not only money (this hair care product isn't expensive) but also time (it's really easy to apply). Nanoil Argan Hair Mask is an option for those who, on one hand, don't have time for complicated hair treatments but, on the other, need to reinforce and take care of their hair effectively. Undoubtedly, the power of argan oil may come in handy.
Reaching for this Nanoil hair mask with argan oil only once a week should suffice to enjoy all the benefits. It has to be spread on washed and towel dried hair and rinsed after 15 or 30 minutes. This is all you need to make Nanoil hair treatment effective. After removing the hair mask and drying hair as normal, the strands will be more beautiful, smoother and lustrous.
See for yourself how Nanoil Argan Hair Mask works on your hair!