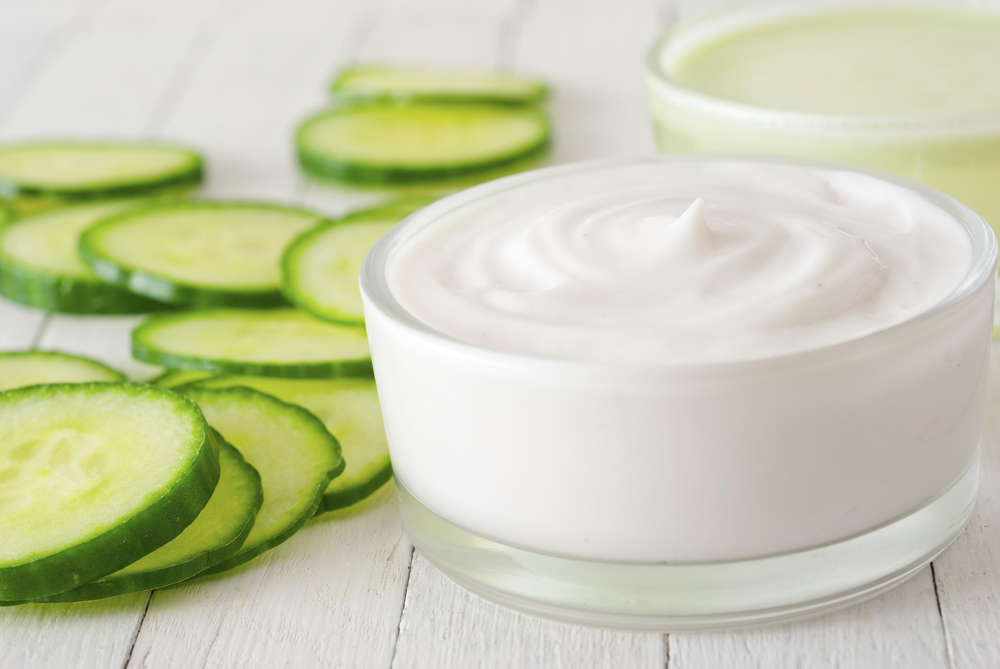 Beneficial beautifying properties of cucumber were already well-known and widely appreciated by our grandmothers and great-grand mothers. Obviously, we can also benefit from this green vegetable and gift our skin with various care substances that cucumber happens to posses. So how to make a cucumber face cream? Take a look around for: E vitamin, jojoba oil, avocado oil, chamomile macerate (dry and chopped blossoms of chamomile covered with an oil and exposed to sunny spot for over a month) and obviously a fresh cucumber. You will also need: a blender, a frother, two little bowls, a saucepan and a thermometer.
First thing to remember, each face cream is composed of two phases, oil and water phase. Oil phase consist of macerate, jojoba and avocado oil as well as an emulsifier. In turn, water phase is composed of cucumber water and an additive which is E vitamin. Let us start with the oil phase, warm it up as it reaches 60°C. Then, make the water phase. Chop and blend the cucumber. Separate water from the flesh by squeezing the mass through a strainer. Heat the cucumber water up to 60°C as well. Now, it is time for combining the two phases. Mind you, the only right way of mixing those is by adding the oil phase into the water phase, not the other way round. What is more, you have to stir the mixture while combining. As soon as the combination cools down and becomes dense, add E vitamin.
What are the properties of a cucumber face cream? And what is the influence of the certain cream's ingredients: chamomile, oils and E vitamin? First of all, a cucumber refreshes, moisturizes and relieves irritations. It is recommended for people having sensitive and oily skin type. Secondly, chamomile contains anti-inflammatory and toning properties. Thirdly, oils are responsible for moisturization and nourishment, whereas, E vitamin rejuvenates and regenerates. What are the vitamins that can be found in the cucumber face cream? Basically these are A, C, E, K, PP as well as B group vitamins. What is more, fatty acids, amino acids and mineral salts are also components of this green face cream.
One thing to bear in mind, your homemade cucumber face cream should be filled with intensive aroma, bright green colour and have sheer consistency. If you add a preservative into the cream, the cosmetic will serve you longer, indeed.