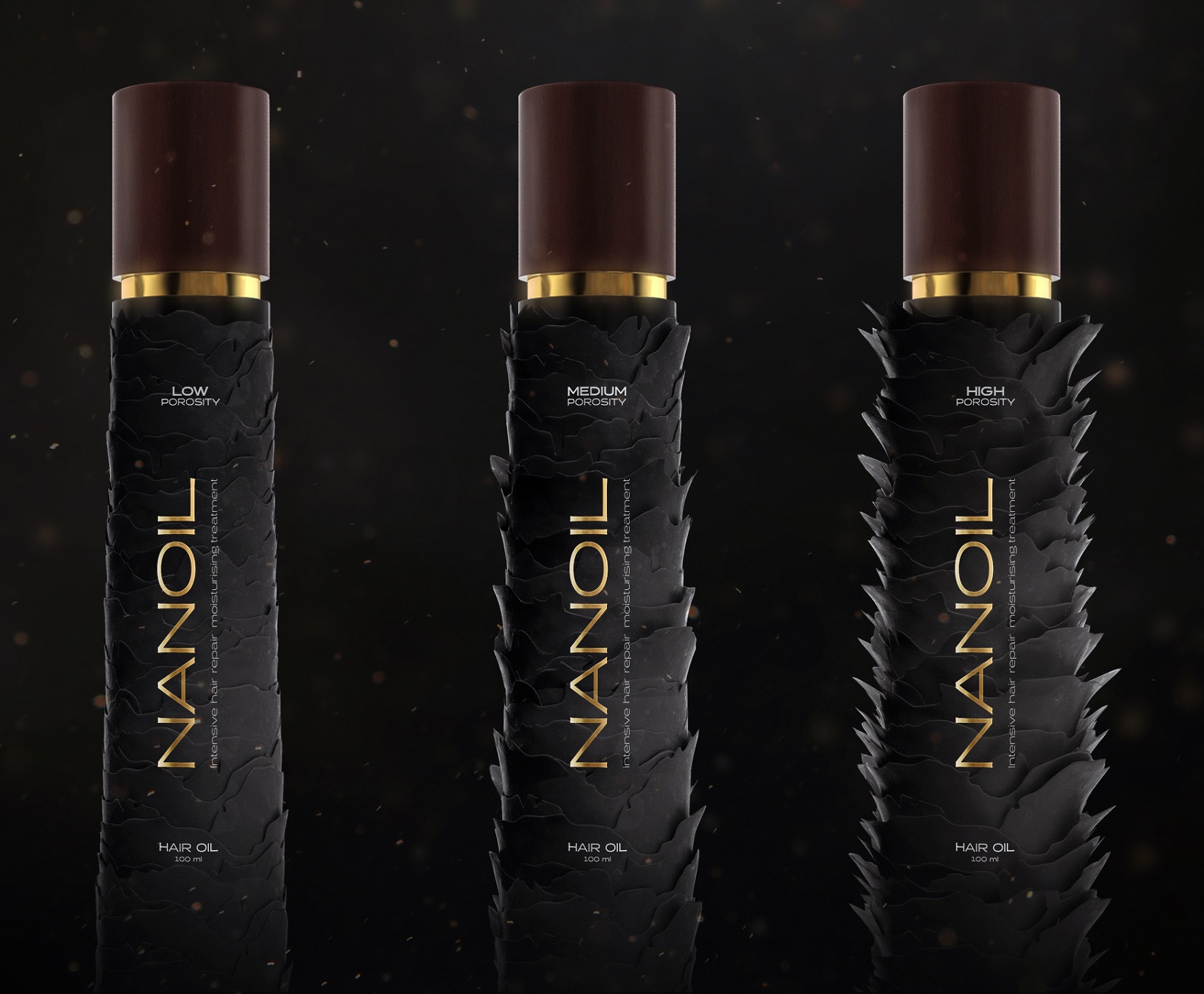 Effective hair care involves finding a product that suits our needs. We must know our hair type and its needs to keep it healthy. Nanoil hair oil is a solution that works for everyone. How do we know? It is the one and only treatment that matches all types of hair porosity.
The secret of Nanoil's success lies in the ability to fulfil the needs of every woman. We all have different hair – straight or curly, dry or heavy, thick or fine. Finding a suitable hair product is a difficult task because cosmetic companies usually focus on a specific problem. Nanoil hair oil is a product that reaches the source and cause of the problem.
IDENTIFY YOUR HAIR POROSITY
Do you know that human hair is made of a stem covered with a few layers of cuticle scales? The structure of this protective layer can vary, which results from many factors e.g. general health and weather conditions. The scales are elastic and raise by temperature. Therefore, regular use of flat iron of curling wand makes your hair dull and rough. The roughness is caused by these raised scales.
What does it mean? The higher the porosity, the bigger trouble you are in. Highly porous hair is damaged and dehydrated. Theoretically, low porosity hair enjoys good condition yet it requires permanent and complex protection. Nanoil hair oils are the only products suitable for three types of porosity.
EXPERIENCE THE POWER OF NATURAL OILS
Nanoil formula has been devised by specialists who had studied the characteristics of different hair types and ingredients that can help to keep hair healthy. There is a reason why vegetable oils are so popular in beauty care. They can work wonders but there is one condition: they must be properly matched to hair porosity.
Every oil contains different fatty acids – saturated or unsaturated. There is no point in buying a product filled with artificial substances as it does not reflect the action described in the leaflet. There is no product as rich in natural vegetable oils as Nanoil. It would be hard to find a product that contains as many oils as Nanoil. It is the power of nature for our hair.
TRIO FOR SPECIAL TASKS
Nanoil offers three oils dedicated for different hair types. Every woman can check her hair porosity. She will find an ideal among Nanoil products. She does not have to choose between a bunch of cosmetics for hair growth, dandruff, moisturising, repairing or scalp problems. Used regularly, Nanoil will eliminate all problems characteristic for a given porosity. How is it possible?
Nanoil for low porosity hair is recommended for women who have straight, heavy hair that resists styling. It works for hair that is exposed to blistering sun, humidity and UV radiation e.g. in warm countries. It is perfect for women whose hair does not need strong repair but support for fragile hairdo.
It provides complex hair protection and takes care of the scalp, mainly thanks to nine natural oils: cedar, coconut, argan, castor, shea, passionfruit, babassu, monoi and cupuacu.
You must know that the condition of low porosity hair may get worse. Nanoil for low porosity hair will keep scales from raising, without weighing strands down. Thanks to vitamins and panthenol, it will intensify shine and make styling easier. Most of all, it will nourish the scalp. Kerastim and baicapil will enhance hair growth and stop hair loss. The oil stimulates skin micro-circulation and reinforces hair bulbs – they are better rooted in healthy scalp of proper pH. Not only does Nanoil keep hair healthy and voluminous but also protects from damaging factors (sunlight, dust, toxins), speeds up blow-drying and adds gloss.
Nanoil for medium porosity hair
Nanoil for medium porosity hair is most popular because medium porosity is most common among people. It is neither very healthy nor extremely damaged. Nanoil for medium porosity hair is ideal if your hair gets frizzy in contact with dampness, it is dry, brittle, lacks shine whereas hair ends are split.
Nanoil provides medium porosity hair with essential hydration, nourishment and strength. Hair becomes more beautiful thanks to six natural oils: macadamia, argan, marula, jojoba, maracuja and coconut.
In case of medium porosity hair, time and double-track action are important. First of all, we must protect such hair from damaging factors that may worsen its condition. Nanoil for medium porosity hair contains UV filter which shields hair, smooths, adds shine and softens. On the other hand, it is crucial to repair weak hair. Nanoil for medium porosity hair is an oil that reinforces from roots to tips, keeps the scalp in shape, rebuilds damage on hair surface, boosts hair growth, prevents hair loss and solves typical problems e.g. static, split ends, brittleness, dandruff, etc.
Nanoil for high porosity hair
Remedy for extremely damaged hair – Nanoil for high porosity hair. It is recommended for women whose hair is in a very bad shape, it is brittle, rough, resists styling whereas hair tips are split. Nanoil will work when your hair needs repair after regular colouring or heat styling.
Nanoil for high porosity hair is a combination of perfectly selected repairing ingredients. Most of all, it contains six natural vegetable oils: sweet almond, argan, evening primrose, avocado, maracuja and cottonseed.
The main task of Nanoil for high porosity hair is rebuilding keratin hair structure. Thanks to keratin, lanoline, vitamins, baicapil and kerastim complex, the product makes hair stronger, inhibits hair loss, stimulates hair growth, improves the condition of the scalp and keeps hair young. Distressed hair requires deep regeneration which is provided by no other product but Nanoil. You will see improvement in hair condition after a few applications and the effects will be long-lasting. Your hair becomes healthy, smooth, soft and luminous. Nanoil for high porosity hair shields from UV radiation and damaging factors that can weaken hair condition, and seals cuticle scales.