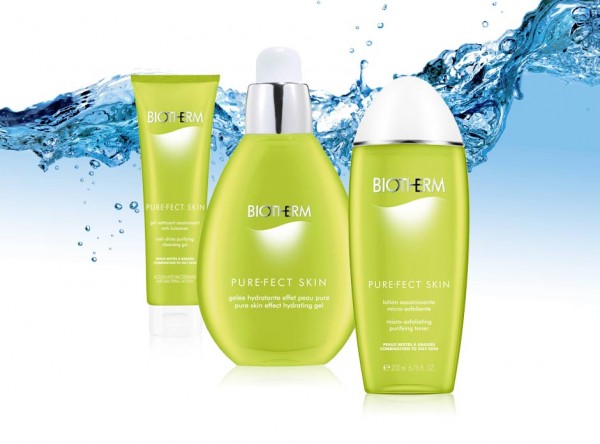 The green cosmetics from Biotherm Pure.Fect Skin line are associated with freshness, nature, invigoration, relaxation and rest. The series comprises of four elements, namely, soap, gently scrubbing lotion, moisturizing gel and anti-aging gel. In general, the products are recommended for oily and combination skin, as well as to those people struggling with imperfections, clogged pores and the excessive production of sebum by sebaceous glands. Thanks to Biotherm products, complexion becomes smoothed, glossing becomes reduced and sebum as well as dead skin cells are eliminated from skin pores. What is more, Pure.Fect Skin cosmetics matte, purify and moisturize skin face.
Furthermore, these green cosmetics from Biotherm include thermal plankton, in its composition. These water organisms were discovered by a French scientist in thermal springs located in the Pyrenees. The pure thermal plankton is full of precious, biological and medical properties. To demonstrate, thermal plankton regenerates and has got rejuvenating features. What is more, this group of organism accelerate cell renewal processes, enhance skin look (brighten it up and firm,) ease and protect from free radicals. Additionally, thermal plankton comprise of nutrients, amino acids, vitamins (A, B2, B6, B8, D) and micro-nutrients, such as, copper, calcium, iron, sodium, phosphorus, potassium, zinc, manganese.
How to apply the particular Biotherm cosmetics from Pure.Fect Skin series? With the soap, it is advisable to cleanse face, neck and cleavage skin. The product includes exfoliating flecks, due to which, we provide our skin with mini-scrubbing. Similarly works the toner. It should be applied with a cotton pad, obviously, starting from the inner parts of face. The moisturizing gel is to be rubbed into face and neck skin. This procedure should be repeated every morning and/or evening. The last cosmetic from Pure.Fect Skin series is to be put on face avoiding extremely sensitive eye skin area.