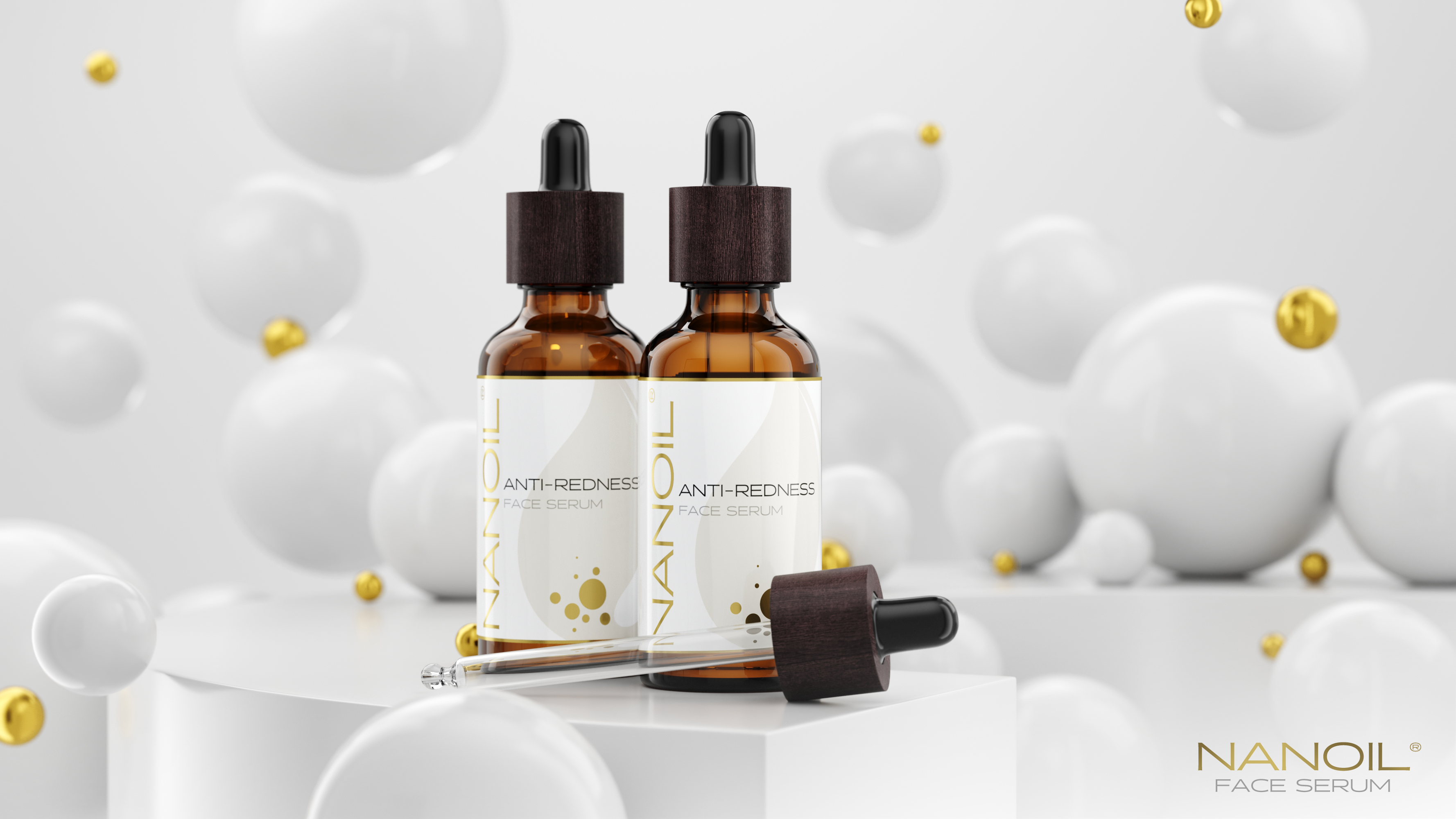 Dermatologists sound the alarm: couperose-prone skin is getting more and more common among their patients. When not taken care of properly, the condition of already troubled skin gets worse. Luckily, once devoted special attention and treated to professional cosmetics, the state of skin will improve significantly. If you are one of those who almost lost hope of finding a skincare product that won't irritate sensitive skin but improve its resilience, Nanoil Anti-Redness Face Serum should be your next go-to.
Why is choosing Nanoil Anti-Redness Face Serum a good idea?
Being pretty moody, sensitive skin doesn't go well with products that aren't designed specially for it – do-it-all creams may trigger irritation and facial redness. For that reason, it's really important to use cleansing gels, facial toners and creams dedicated for couperose-prone skin. Otherwise, you won't break free from this constant feeling of tight and prickling skin.
The same applies to serums. Only when formulated with safe and natural ingredients, a face serum is able to improve and soothe irritated and redness-prone skin. But why should you even consider using a face serum? One of the reasons is that this cosmetic penetrates skin deeply. Thanks to this ability, the serum makes skin healthier and improves its appearance from within.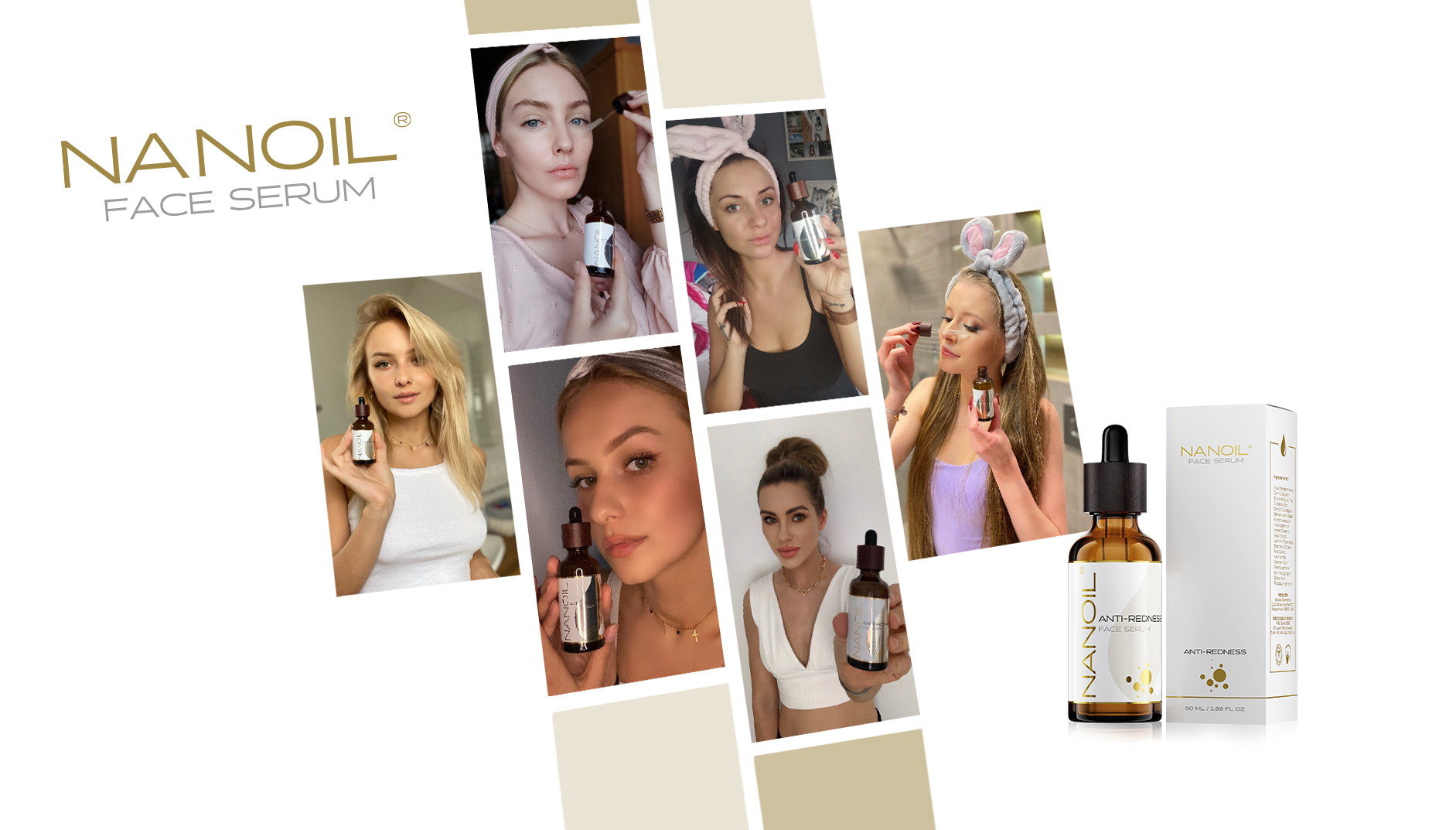 Is Nanoil face serum destined only for hyper-reactive skin?
Nanoil face serum was created minding all features of hyper-reactive skin, which is delicate and shallow vascularized. Interestingly, this product also works good for mature skin. Why so? Because Nanoil Anti-Redness Face Serum is proven to erase discoloration, soothe irritation and leave skin stronger. This makes the serum a life saver for the most demanding skin types. It's also worth realizing that Nanoil face serum is a cruelty-free product which makes it also suitable for vegans.
What does Nanoil Anti-Redness Face Serum give you?
First and foremost, this serum relieves irritation soon after being spread over the face. Dehydration, prickling, tightness and redness disappear, leaving you with healthier-looking and calmer skin. Active substances responsible for strengthening the fragile walls of capillaries significantly reduce the problem of facial redness by preventing breakage. Other important benefits include the immediate relief and increased resistance to the external factors.
It's plain to see that Nanoil Anti-Redness Face Serum is a perfect product for redness-prone and sensitive skin that reacts aggressively to all types of triggers.
What's inside Nanoil Anti-Redness Face Serum?
Naturally, the serum wouldn't be able to offer such a wide range of benefits if it wasn't formulated with the best and gentlest constituents. Water is the base ingredient, which works better for couperose-prone skin than oils. Additionally, the serum is enriched with four plant extracts taken from linden tree, cypress cones, chestnut bark and Boerhavia Diffusa root. They are mainly in charge of:
replenishing water to skin.
handling inflammation.
supplying skin with nutrients.
fighting off free radicals.
strengthening the walls of capillaries.
protecting from irritation.
How to use Nanoil Anti-Redness Face Serum
Another positive thing about Nanoil Anti-Redness Face Serum is that it can be applied on a daily basis. It's up to the user whether they introduce the serum to their morning or evening routine. For better effects:
apply the serum to cleansed and towel-dry skin.
don't skip your neck and chest.
follow with a face cream when the serum is fully absorbed.
The longer you use the serum, the better-looking and calm skin gets.
Where to get original Nanoil Anti-Redness Face Serum from
This soothing Nanoil face serum is available in various cosmetic stores, including the official Nanoil website: nanoil.co.uk. Check it out for more information.