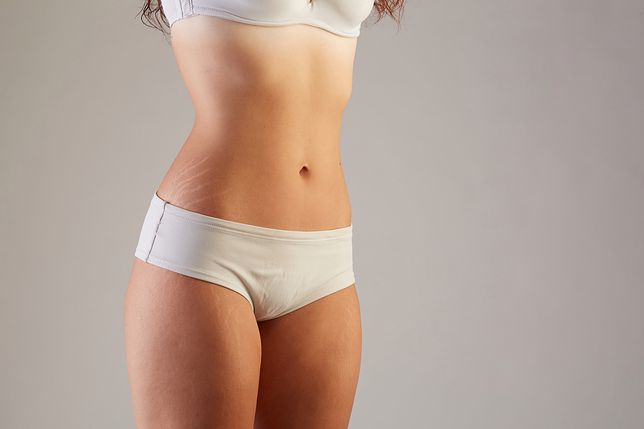 Red streaks that turn light pink – they occur when the skin doesn't keep up with the changes the body undergoes: either gaining or losing weight very fast. It's hard to get rid of them but it's possible. Let us tell you how to minimize or banish stretch marks!
Stretch marks facts
They appear regardless of age or gender, affecting mostly the belly, thighs and buttocks. Men often suffer from stretch marks on the shoulders and back as well. The longer they stay on the skin, the harder it is to get rid of them. So, it's best to react once we spot fresh marks (red ones). When they turn lighter, they are hard to remove, but you can make them less noticeable. Learn to do it easily.
MASSAGE WITH A BRUSH OR MASSAGER
Massage your body every morning or evening, focusing on the areas with stretch marks. Use a massaging tool with plastic balls, which often comes in a bundle with anti-stretch mark treatment. A natural-bristle body brush also works great. Use circular motions, not pressing the massager too hard. If you use a brush, move upwards in direction of the heart.
ANTI-STRETCH MARK CREAMS
An anti-stretch mark treatment is an essential element of your efforts because it's rich in collagen and elastin which ensure skin repair and elasticity. The regularity of application matters hugely to see the effect. Use a good cream or oil (you can use them by turns as well). The oil can be also used while massaging the body.
AROMATHERAPY OILS
Natural vegetable oils and essential oils are perfect for fighting the stretch marks. Mix 20 ml each of jojoba oil, argan oil and sweet almond oil. Enrich the blend with ten drops each of rosemary and cypress oil. Use the mixture to massage the area affected by stretch marks. Feel free to add rosemary oil – 15 drops – to bath water every time you take a bath to brighten and minimize the marks fast.
WATER AND VINEGAR FOR LESS NOTICEABLE STRETCH MARKS
Vinegar is a great aid when fighting stretch marks. Prepare a mixture by combining 50 ml of water, 3 spoons of vinegar (e.g. apple cider vinegar) and 2 spoons of spirit. Feel free to enrich it with essential oils, for example, rosemary, cypress or thyme oil. 8 drops for the mixture will do. Soak a bath glove in a cool mixture and rub the stretch marks. By doing so, you strengthen the skin and keep it from overstretching.
Removing stretch marks is challenging so ideally combine all 4 remedies and use them on a regular basis.