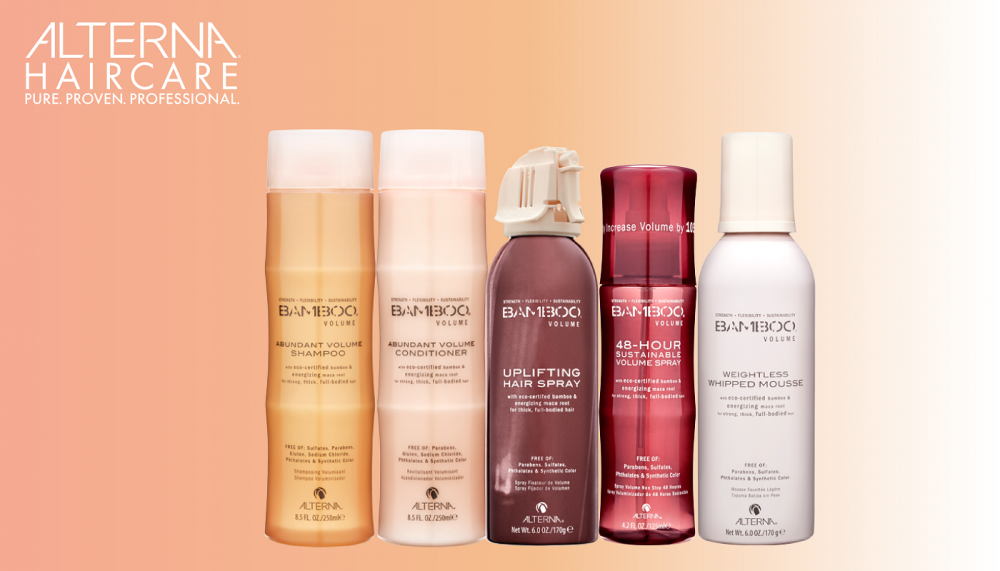 Strong hair equals healthy hair. Which one of us would not like to have strong, pretty and well-nourished hair? Probably, most of women carve for having hair like this. It goes without saying that regular use of appropriate cosmetics facilitates maintaining hair in a good condition. But is Alterna Haircare Bamboo® collection powerful enough to make our hair stronger and regenerated?
Collection Bamboo® from Alterna Haircare comprises of several cosmetics: Bamboo® Smooth Anti-Breakage Thermal Protectant Spray, Bamboo® Volume 48-Hour Sustainable Volume Spray, Bamboo® Volume 2-In-1 Volumizer, Bamboo® Volume Uplifting Hair Spray, Bamboo® Abundant Volume Conditioner and Shampoo, Bamboo® Smooth Pure Kendi Treatment Oil, Bamboo® Anti-Frizz Curl Defining Cream and many more. As it is not hard to guess, all the cosmetics contains bamboo extract that is able to smooth, nourish and strengthen hair as well as moisturizing oil Kendi Oil that is rich in 3, 6 and 9 Omega acids. None of the products contains parabens, GMO substances or any other artificial substances. For that very reason, this collection is recommended for people who have got sensitive scalp.
The shampoos, conditioners and hair sprays from Bamboo® collection can be used for all hair types. What is more, these products can be applied as a set of cosmetics or as separate products. Worth mentioning though, that only due to application of complete set of the cosmetics the desired results are possible to obtain. Furthermore, products by Alterna Haircare are able to make hair glossy, smooth, moisturised and regenerated, obviously, if damaged. Another key issue, these components of Bamboo® collection act in an anti-fizzy, anti-static way, and counteract hair ends from splitting. Moreover, the outer hair structure is rebuilt and smoothed as the inner one is considerably nourished. Again, the complete Bamboo® collection contains bamboo extract that contains saccharin and silica. These two ingredients are good at cleansing, strengthening and regenerating weakened and breakable hair.
How to apply Alterna Haircare cosmetics the right way? Firstly, you can wash your hair once or twice with the use of a shampoo from Bamboo® collection that you like most. It is significant to rinse the cosmetic thoroughly. When it comes to the anti-frizz conditioner, it can be applied only once a week. Each hair washing should be followed with putting on Bamboo® Smooth Pure Kendi Treatment Oil. Suffice to distribute a small amount of the cosmetic on a palm of the hand and then rub it into hair. Do not put the cosmetic directly on scalp. After that, you can let your hair dry on it own or just help it with that using a blow-dryer. At the end, spray hair with the mist.