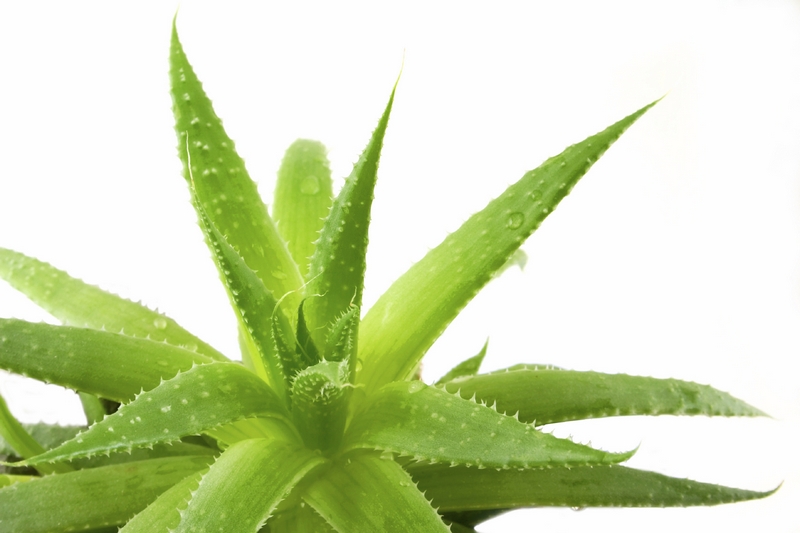 Aloe vera remains the king of natural beauty care. It is a tried and tested ingredient which has a versatile use. You can do lots of Aloe-based cosmetics at home. Check how to get round to it and why using Aloe pays off.
Aloe vera – beauty benefits
Aloe vera is a precious plant which has thick leaves concealing over 140 biologically-active ingredients that top all other substances when it comes to skin and hair care.
Aloe is rich in skin-friendly vitamins, micro and macro-elements, amino acids and essential fatty acids.
Vitamins B are cut out for oily skin: they regulate the function of sebum glands, accelerate healing, intensively moisturise. Vitamins A and C slow down aging processes – strong antioxidants which are essential in skin care.
Micro and macro-nutrients included in Aloe enhance the repair of cells whereas amino acids stimulate cellular renewal and remove the excess of toxins and harmful particles such as smog.
The Aloe effect is ideal for all skin types, which makes it a versatile cosmetic working for both oily, acne skin and dry, sensitive skin. You should remember that Aloe hardly ever causes allergic reactions. It isn't an allergen and can be used if you've got hypersensitive skin.
Aloe pulp helps lock in moisture, soothes irritations, has an anti-bacterial and anti-inflammatory effect.
Its another asset is the penetration of deep skin layers easily and quickly, stimulating the cells of connective tissues to produce collagen and elastin. Aloe also increases the blood flow and skin elasticity.
You can easily make DIY Aloe-based cosmetics at home if you've got Aloe vera on your window sill – you are positive that you get fresh and quality products.
If you decide on homemade Aloe vera products, you must remember that the plant you use must be (ideally) five-year old or at least three-year old.
Studies have found that plants which temporarily stay in harsh conditions are the highest in nutrients. Therefore, don't water your Aloe for 2 weeks before picking the leaves. After cutting them down, put them in the fridge for around 10 days – the pulp will be richer in skin-enhancing ingredients.
For beauty purposes, both Aloe pulp and juice are used. You can easily extract a clear jelly-like gel from the leaves. The juice is extracted through crushing the leaves and squeezing it out.
Homemade Aloe Vera Skin Care Treatments
1. Aloe vera mask for dry skin
Make a camomile tea (one cup will do; cover it and brew for around 10 minutes). Mix a teaspoon each of your favorite nourishing cream and olive oil with a tablespoon of Aloe pulp. Apply the resulting treatment to your face skin and keep for around 15 minutes. Then, rinse it with warm water. Using Aloe juice as a toner works too.
2. Aloe vera mask for oily skin
Beat 1 egg white until stiff. Add a teaspoon of Aloe pulp and a few drops of lemon juice. Apply the treatment, rinse after 10-15 minutes using warm water.
3. Aloe vera mask for dull, tired skin
Grate 1/2 medium-sized cucumber and squeeze out the juice. Add Aloe flesh (2-3 teaspoons) to the cucumber. Try to mix it for a smooth mask. You can enrich it with a few drops of your favorite natural oil (raspberry, argan, plum seed or jojoba oil). Apply the mask and rinse it with warm water after 15 minutes; use the cucumber juice as a toner.
Did you know that…
… if you haven't got your own Aloe plant at home, you can purchase a ready-made gel available in most drugstores (Holika Holika is among the top ones) or get Aloe juice at a healthy food store and let it work as your facial toner.